David Schmidt – A&P / IA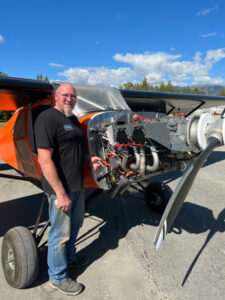 David's love for aviation began in high school when a couple of pilots from church took him flying. He would also visit the local airport and ask questions of the local aviation companies.
David attended Moody Aviation in Tennessee from 1993-1995 and graduated with A&P in 1995. He moved to Alaska in 1996 and has been involved in the aviation community ever since. It's a tight knit but diverse community and he enjoys the camaraderie among the pilots and mechanics.
David has worked for both private companies and the State of Alaska and has extensive experience maintaining a variety of aircraft, including helicopters, small piston aircraft, and transport-category turbine airplanes. His work has taken him to Kenai, Anchorage, Big Lake, Bethel and other remote fly-in locations in Alaska.
David holds Airframe & Powerplant Mechanic Certifications as well as an Aircraft Inspector Authorization and has 25 years' experience in General Aviation Maintenance.
He enjoys working on a diverse range of aircraft and appreciates that even older airplanes that are well maintained are useful. His focus is on customer satisfaction and the pride of a job well done. Quality work has been his personal standard in all areas of life. David is a gifted leader who is known for mentoring mechanics in all areas of aircraft servicing.
David Schmidt – A&P / IA | Aircraft Alaska Inc. at Wolf Lake Airport